Yogendra Yadav has been ousted from the party that he brought to political maturity backed by his psephology background but his removal points at the party's amateur leadership that failed to accommodate dissidence and move on.
Though both Yadav and Prashant Bhushan remain part of the 21-member national executive of the Aam Aadmi Party, they will be removed from the policy-making Political Affairs Committee, effectively giving Kejriwal followers an upper hand now.
Will it help AAP?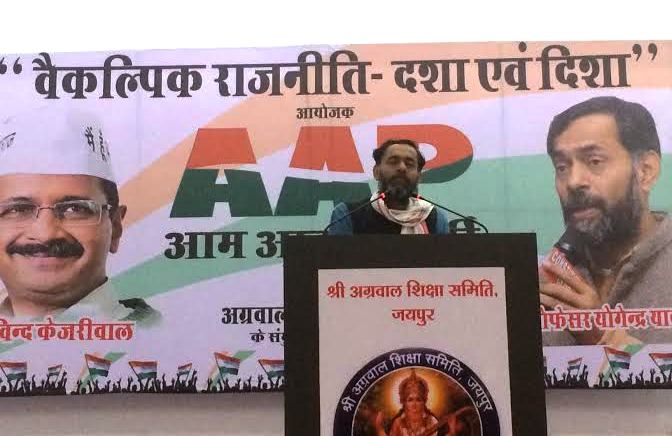 First and foremost, Kejriwal should know that he should keep up "One Post" policy and give the reigns of steering the party to others, in this case, he should find a trusted lieutenant. But in politics, he should know that there is no such thing like permanent loyalty and the latest example can be cited from Bihar politics.
Secondly, Kejriwal followers and AAP supporters, despite the media support, failed to accept media criticism ever. In many instances, they attacked media freedom to keep up the sanctity of their leader. All their social media tactics followed smear campaign against the media that opposed, instead of taking hints and working on a better solution.
By removing the very founders from its PAC, Kejriwal's Voice of AAP might roar but in the long run it will be detrimental to the very leadership that has steered them to this stage. It's just a matter one win and one loss for any leader to test his followers' loyalty. If this is what Kejriwal is relying on now, then he will soon find himself isolated when it comes to real-politik versus high morals in the party.
If Kejriwal loses one election, he may be isolated by the same supporters who are besides him owing to his Delhi electoral victory that owes more to extraneous factors than Kejriwal's sole leadership. But he will not realize it now riding high on excessive majority.
For now Kejriwal can count on his followers but in the long run he needs the expertise of Bhushan and Yadav to keep the party that advocates to keep up honesty in politics.
"वैकल्पिक राजनीति – दशा और दिशा" पर जयपुर में एक सभा को संबोधन. pic.twitter.com/ebm9YTEy4h— Yogendra Yadav (@AapYogendra) March 1, 2015
He may enjoy unquestioned decision-making authority in his party for few months or years but minus Yadav he will come to rely on instinctive policy-making bereft of ideological and consequential scrutiny. Perhaps, he may have been advised by some sychofants with similar sentiments which prompted Stalin a century ago to oust Trotsky from the Soviet party.