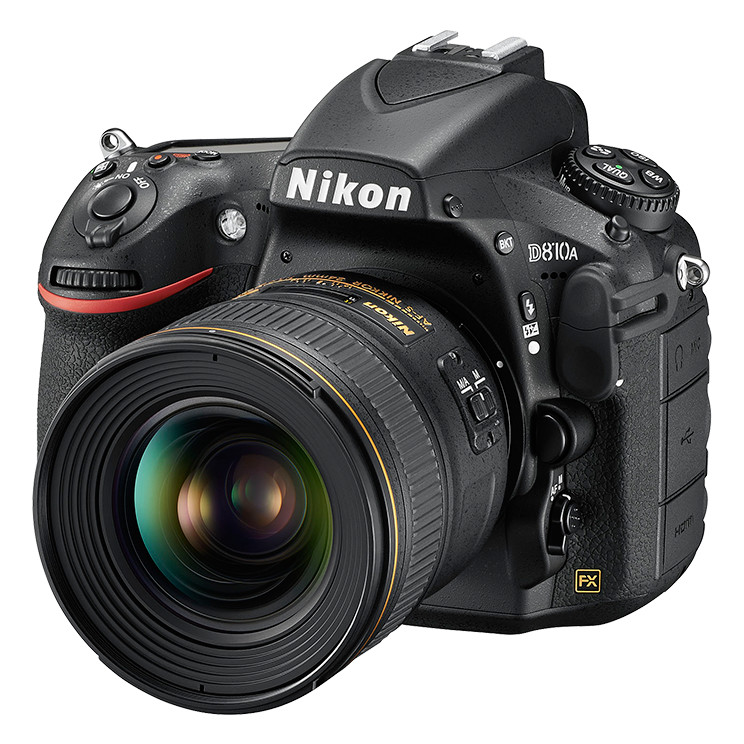 Nikon has come out with an exclusive camera for astronomy enthusiasts — D810A D-SLR — built with an array of features for astrophotography.
The Nikon D810A D-SLR camera, to be released into the market in May 2015, can take pictures of astronomical subjects emitting the H-alpha wavelengths of light such as nebulae.
The 36.3 megapixel camera can take the pictures in ultra-high definition due to its longer exposure in low-light conditions with minimal noise, and a live preview function.
It FX-format CMOS sensor without an optical low-pass filter comes with EXPEED 4 image-processing feature to help in improving noise reduction performance at sensitive areas and it provides depth and clarity in gradation rendering, said the company.
Mainly to capture the night sky, the ISO sensitivity ranges from ISO 200 to 12800, which can be decreased to Lo 1 (ISO 100 equivalent), or increased up to Hi 2 (ISO 51200 equivalent) to suit different environments.
"Nikon D810A is a 36.3 megapixels camera crafted with unique ability to capture subjects with H-alpha wavelengths, ensuring rich vibrant capture for images of the cosmos that are true to the eye", said Sajjan Kumar, Vice President – Imaging Division, Nikon India Pvt. Ltd.
D810A specs have also been modified from the earlier model D810 to suit astrophotography, such as the addition of a long-exposure manual (M) mode that supports exposure times up to 900 s, and a live view preview function that makes focusing and composing images easier with display of a preview at a shutter speed of 30 s when an exposure time longer than 30 s is specified.
In addition, the D810A has inherited a number of functions from the D810 that are convenient for astrophotography, including the ability to enlarge the view through the lens displayed in the camera monitor during live view up to approximately 23x to facilitate accurate focusing, an electronic front-curtain shutter that thoroughly suppresses mechanical shake, and a continuous shooting function with no limit on the number of shots possible for creating beautiful star trails (apparent motion of stars around the Earth)
D810A Features that support astrophotography:
Equipped with an optical filter designed for astrophotography for capture of the vivid reds of nebulae that emit H-alpha lightAs common digital SLR cameras are designed with consideration of portrait and landscape photography, the transmission of light nearing the red range of visible light is suppressed for optimal reproduction of colors in those types of scenes. Therefore, images of nebulae and galaxies that emit H-alpha light often appear pale when captured with these cameras. In response to this issue, the optical filter (IR-cut filter), positioned on the front surface of the image sensor, adopted for the D810A has been modified with revision of transmission characteristics for four times greater transmission of H-alpha light than that used with the D810. This enables astrophotography with clear reproduction of the vivid reds emitted by nebulae and galaxies.

Offers smooth and enjoyable shooting with new functions specialized for astrophotographyLong-exposure manual (M*) mode that supports shutter speeds as slow as 900 s
In addition to the usual P, S, A, and M exposure modes, the D810A is equipped with a new long-exposure manual (M*) mode. The shutter speeds available in long-exposure manual mode differ from those available in normal M mode in that the 100-shot limit with continuous shooting is eliminated with exposure times of 4 s or longer. Users can select a shutter speed of 4, 5 ,8, 10, 15, 20, 30, 60, 120, 180, 240, 300, 600, 900 s, or Bulb or Time, all of which support an unlimited number of shots with continuous shooting. Because the selected shutter speed represents the actual exposure time, calculation of total exposure time is simple, making this mode especially convenient for creating composite images using a lighten blending mode.

Viewfinder display that considers nighttime photography
Information necessary with shooting is displayed in the viewfinder so that images can be framed without taking your eye off the subject. In addition to shutter speed and aperture settings, a virtual horizon, which is always illuminated in red when enabled, can be displayed to help keep the camera level. Features like this allow the user to focus on shooting.

A live view preview function that makes focusing and composing images easier with display of a preview at a shutter speed of 30 s when exposure time is longer than 30 s
When exposure times longer than 30 s common with astrophotography are specified, a preview at a shutter speed of 30 s is shown in the live view display (preview exposure is not the same as that of the actual image). What's more, just as with the D810, the live view display can be enlarged up to 23x, making precise focusing easier.

The best image quality in the history of Nikon digital SLR cameras for incredibly sharp astrophotographyThe D810A offers the same effective pixel count of 36.3-million pixels and Nikon FX-format CMOS sensor with no optical low-pass filter as the D810. The best image quality in Nikon digital SLR camera history combined with the latest image-processing engine, EXPEED 4, achieves sharp and vivid colors, as well as rich tones that render the nuances of delicate and smooth shading in three dimensions. The D810A also supports a broad range of standard sensitivities, from ISO 200 to ISO 12800, with additional reduction as low as the equivalent of ISO 100 (Lo 1) and expansion to the equivalent of ISO 51200 (Hi 2). A broad dynamic range is preserved at each sensitivity setting, and noise is effectively suppressed and the detail possible with the effective pixel count of 36.3-million pixels is demonstrated even when high sensitivities or long exposures are applied for shooting subjects exhibiting little contrast.

Features convenient for astrophotography inherited from the D810

An electronic front-curtain shutter that effectively suppresses internal mechanical shake that can be troublesome with astrophotography, especially when photographing the surface of the moon
When a shutter speed of 4 s or longer is specified, the number of shots possible with continuous shooting is limited only by memory card capacity and battery charge. As images can be captured in rapid succession, photos that can be used to create composite images of smooth star trails can be taken.
The superior performance of the Rechargeable Li-ion Battery EN-EL15 reliably supports astrophotography with shooting of many photos over an extended period of time. A power-saving design has been adopted, enabling capture of up to 3,860 still images with a fully charged battery.*

*

When the built-in flash is not used, and images are not viewed immediately after capture.

Nikon Integrated Dust Reduction System that includes the Clean Image Sensor function, which vibrates the optical filter at various frequencies to remove dust and foreign matter that may have adhered to it

A rich variety of accessories that support creative astrophotography

The Remote Cord MC-36A (sold separately) can be used to apply interval timer and long time-exposure settings, and is especially effective with continuous shooting with exposure times of 4 s or longer.

The Multi-Power Battery Pack MB-D12 (sold separately) enables capture of up to approximately 10,660 still images*

*

When one EN-EL15 is inserted in the D810A, and one EN-EL18a is inserted in the MB-D12. When the built-in flash is not used, and images are not viewed immediately after capture.

The GPS Unit GP-1A (sold separately) records the latitude, longitude, and altitude at which photos were taken, as well as the Coordinated Universal Time (UTC; the primary standard by which the world regulates clocks and time) at which they were taken, as Exif data embedded in images

The new Picture Control system is supported, and the Capture NX-D software application (free download) can be used to process and adjust RAW images for full-scale photofinishing with simple operation.