The news of shifting of IPL matches from Maharashtra owing to High Court order has jolted Kolkata with an earthquake measuring 6.9 magnitude on Wednesday evening around 7:30 PM. The epicentre was located in Myanmar's Mawlaik hills.
Last year Nepal was rocked with huge loss of lives and property during the same time and now nearby Maynamr is the location for the massive earthquake in the region.
US Geological Survey has reported that the earthquake measured 6.9 on Richter scale which is heavy in the region barring Japan.
The tremors were felt as far as Delhi and people ran out of their houses fearing bigger after-shocks.
2016-04-13 13:55:17 (UTC)
2016-04-13 19:25:17 (UTC+05:30) in IST
Nearby Places
74.0 km (46.0 mi) SE of Mawlaik, Burma
103.0 km (64.0 mi) NW of Shwebo, Burma
115.0 km (71.5 mi) NNW of Monywa, Burma
165.0 km (102.5 mi) W of Mogok, Burma
396.0 km (246.1 mi) NNW of Nay Pyi Taw, Burma
Location
Contributed by US1 last updated 2016-04-13 14:13:34 (UTC)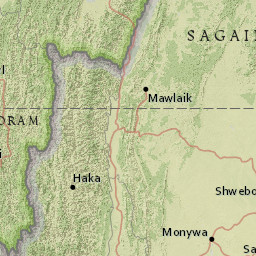 Seismotectonics of the Lower Himalaya and Burma
Seismicity in the Himalaya dominantly results from the continental collision of the India and Eurasia plates, which are converging at a relative rate of 40-50 mm/yr. Northward underthrusting of India beneath Eurasia generates numerous earthquakes marked by the foothills of the north-south trending Sulaiman Range in the west, the Indo-Burmese Arc in the east and the east-west trending Himalaya Front in the north of India.
The narrow (<200km) Himalaya Front includes numerous east-west trending, parallel structures. This region has the highest rates of seismicity and largest earthquakes in the Himalaya region, caused mainly by movement on thrust faults.
Examples of significant earthquakes here caused by reverse slip movement include the 1934 M8.1 Bihar, the 1905 M7.5 Kangra and the 2005 M7.6 Kashmir earthquakes. The latter two resulted in the highest death tolls for Himalaya earthquakes seen to date, together killing over 100,000 people and leaving millions homeless. The largest instrumentally recorded Himalaya earthquake occurred on 15th August 1950 in Assam, eastern India.
Between 1930 and 1956, six M7.0+ earthquakes occurred near the right-lateral Sagaing Fault, resulting in severe damage in Myanmar including the generation of landslides, liquefaction and the loss of 610 lives. Within the pre-instrumental period, the large Shillong earthquake occurred on the 12 June 1897, causing widespread destruction.
Here are some live tweets:
Airtel Kolkata not working…? #earthquake

— Bhaskar Tejaswi (@simplytrue123) April 13, 2016