Known for her natural 'saas' role in moany movies and TV serials, actress Reema Lagoo breathed her last on Thursday morning due to cardiac arrest in Mumbai's Kokilaben Hospital. She was aged 59.The funeral will be held later in the day.
Soon, all actors who once shared the screen with her reacted with disbelief and the Twitter was abuzz with condomence messages and many actors fondly remembering her controbution to the big and small screen.
Reema Lagoo became a familiar face in all Hindi households with her role in Salman Khan's "Hum Aapke Hain Kaun", "Hum Saath Saath Hain" and "Maine Pyar Kiya". She had acted with all the big names in Bollywood including Shah Rukh Khan, Akshay Kumar, Sridevi and Madhuri Dixit. She won four Filmfare Awards for Best Supporting Actress.
Born as Nayan Khadbade to a Marathi actress in 1958, she changed her name to Reema Lagoo after her marriage to Marathi actor Vivek Lagoo and the couple separated a few years later.
Reema Lagoo's debut in Hindi films was with Kalyug in 1980 and her last film in Bollywood was "I Love NY" in a cameo appearance and her last television show was 'Naamkaran'. She is survived by her daughter Mrunmayee, a theatre actress and director.
Starting from Amitabh Bachchan, Akshay Kumar, Rishi Kapoor, Priyanka Chopra, Paresh Rawal, Nimrat Kaur, Riteish Deshmukh, filmmakers Kunal Kohli and Madhur Bhandarkar expressed their condolences.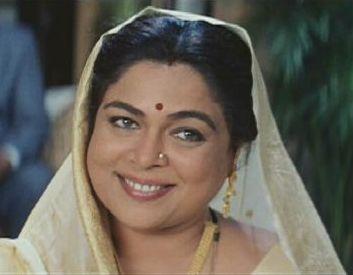 Rishi Kapoor said:"RIP. Worked in quite a few films. Reema Lagoo. Good friend. Heartfelt condolences." She had acted with him in "Hum Saath Saath Hain"
Paresh Rawal ✔ @SirPareshRawal: "Reema lagoo an endearing n positive persona . A friend n a colleague since theatre days. RIP."
Riteish Deshmukh ✔ @Riteishd: "Shocked & saddened. Reema Lagoo ji will be missed. She will always be remembered for her iconic roles in cinema & on stage. RIP"
kunal kohli ✔ @kunalkohli:"Am shocked to hear about Reemaji RIP #ReemaLagoo
One of warmest,nicest people on and off screen. This is very shocking & sad."
Madhur Bhandarkar ✔ @imbhandarkar:"Sad to hear about #ReemaLagoo. Remember working with her as an associate director in #Rangeela.A talented actress & a warm person. RIP."
Boman Irani ✔ @bomanirani:"Our very dear Reema Lagoo is no more. Always kind, funny and loving.Saddened. RIP."
Reema Lagoo's Filmography:
| Year | Title | Role | Notes |
| --- | --- | --- | --- |
| 1979 | Sinhasan | | Marathi film |
| 1980 | Kalyug | Kiran | |
| 1980 | Aakrosh | Nautaki dancer | |
| 1985 | Nasoor | Manjula Mohite | |
| 1988 | Hamara Khandaan | Dr. Julie | |
| 1988 | Qayamat Se Qayamat Tak | | |
| 1988 | Rihaee | | |
| 1989 | Maine Pyar Kiya | Kaushalya Choudhary | |
| 1990 | Police Public | | |
| 1990 | Aashiqui | | |
| 1990 | Pratibandh | | |
| 1991 | Pyar Bhara Dil | Sudha Sunderlal | |
| 1991 | Patthar Ke Phool | Mrs. Meera Verma | |
| 1991 | First Love Letter | | |
| 1991 | Henna | | |
| 1991 | Saajan | Kamla Verma | |
| 1992 | Sapne Sajan Ke | | |
| 1992 | Prem Deewane | Sumitra Singh | |
| 1992 | Jiwalagaa | | |
| 1992 | Jeena Marna Tere Sang | | |
| 1992 | Shola Aur Shabnam | Mrs. Sharda Thapa | |
| 1992 | Qaid Mein Hai Bulbul | Guddo Choudhry | |
| 1992 | Do Hanso Ka Joda | | |
| 1992 | Nishchaiy | Yashoda | |
| 1992 | Shubh Mangal Savdhan | | Marathi film |
| 1993 | Shreemaan Aashique | Suman Mehra | |
| 1993 | Sangram | | |
| 1993 | Mahakaal | | |
| 1993 | Aaj Kie Aurat | Shanta Patil | |
| 1993 | Gumrah | Sharda Chadha | |
| 1993 | Dil Hai Betaab | | |
| 1993 | Pyaar Ka Tarana | | |
| 1994 | Dilwale | | |
| 1994 | Pathreela Raasta | | |
| 1994 | Hum Aapke Hain Koun..! | | Nisha's mother |
| 1995 | Jai Vikraanta | | |
| 1995 | Rangeela | | |
| 1996 | Apne Dam Par | Mrs. Saxena | |
| 1996 | Vijeta | Mrs. Laxmi Prasad | |
| 1996 | Papa Kehte Hai | | |
| 1996 | Prem Granth | Parvati | |
| 1996 | Maahir | Asha | |
| 1996 | Dil Tera Diwana | Kumar's wife | |
| 1997 | Uff! Yeh Mohabbat | | |
| 1997 | Rui Ka Bojh | | |
| 1997 | Judwaa | | |
| 1997 | Yes Boss | | |
| 1997 | Betaabi | | |
| 1997 | Deewana Mastana | | |
| 1998 | Tirchhi Topiwale | | |
| 1998 | Pyaar To Hona Hi Tha | | |
| 1998 | Mere Do Anmol Ratan | Suman | |
| 1998 | Deewana Hoon Pagal Nahi | | |
| 1998 | Aunty No. 1 | Vijayalaxmi | |
| 1998 | Kuch Kuch Hota Hai | Anjali's mother | |
| 1998 | Jhooth Bole Kauwa Kaate | Savitri Abhyankar | |
| 1999 | Hum Saath-Saath Hain | Mamta | |
| 1999 | Bindhaast | Aasawari Patwardhan | |
| 1999 | Aarzoo | Parvati | |
| 1999 | Vaastav: The Reality | Shanta | |
| 1999 | Dillagi | | |
| 2000 | Kya Kehna | | |
| 2000 | Nidaan | Suhasini Nadkarni | |
| 2000 | Deewane | | |
| 2000 | Jis Desh Mein Ganga Rehta Hain | Laxmi | |
| 2000 | Kahin Pyaar Na Ho Jaaye | Mrs. Sharma | |
| 2001 | Hum Deewane Pyar Ke | Mrs. Chatterjee | |
| 2001 | Censor | | |
| 2001 | Indian | Mrs. Suryapratap Singh | |
| 2001 | Tera Mera Saath Rahen | Janki Gupta | |
| 2002 | Hathyar | Shanta | |
| 2003 | Kavtya Mahakaal | | |
| 2003 | Pran Jaye Par Shaan Na Jaye | | |
| 2003 | Main Prem Ki Diwani Hoon | | |
| 2003 | Chupke Se | Laxmi Timghure | |
| 2003 | Kal Ho Naa Ho | Mrs. Mathur | |
| 2004 | Hatya | Mrs. R. Lal | |
| 2005 | Koi Mere Dil Mein Hai | Mrs. Vikram Malhotra | |
| 2005 | Hum Tum Aur Mom | | |
| 2005 | Shaadi Karke Phas Gaya Yaar | | |
| 2005 | Sandwich | | |
| 2005 | Divorce: Not Between Husband and Wife | Judge | |
| 2006 | Aai Shappath | Devki Desai | |
| 2008 | Superstar | | |
| 2008 | Mehbooba | Queen Mother (Ma'sa) | |
| 2008 | Kidnap | Sonia's grandmother | |
| 2009 | Aamras | | |
| 2010 | Mittal v/s Mittal | Mitali's mother | |
| 2011 | Janma | Vandhana Sarpotdar | |
| 2011 | Mumbai Cutting | | |
| 2011 | Trapped in Tradition: Rivaaz | Ranjeet Singh's wife | |
| 2012 | Om Allah | | |
| 2013 | 498A: The Wedding Gift | Sudha Patel | |
| 2015 | Main Hoon Rajinikanth | Herself | |
| 2015 | I Love NY | Tikku Verma's adopted mother | Cameo appearance |
| 2015 | Katyar Kaljat Ghusali | Katyar | Marathi film; Voice-over |
| 2016 | Jaundya Na Balasaheb | | Marathi film |
Television
[

edit

]
| Year | Title | Role | Notes |
| --- | --- | --- | --- |
| 1985 | Khandaan | | |
| 1988 | Mahanagar | | |
| 1993 | Kirdaar | | |
| 1994 | Aasmaan Se Aagay | | |
| 1994 | Shrimaan Shrimati | Kokila Kulkarni | |
| 1994–2000 | Tu Tu Main Main | Devki Verma | Indian Telly Award for Best Actress in a Comic Role |
| 1997 | Do Aur Do Paanch | Radha | |
| 1999 | Waqt Ki Raftar | | |
| 2002–2003 | Dhadkan | Prajakta Marathe | |
| 2006 | Kadvee, Khatti, Meethi | Yashoda Verma | |
| 2009 | Do Hanson Ka Joda | | |
| 2012 | Lakhon Mein Ek | | |
| 2013 | Tuza Maza Jamena | Reema Limaye | |
| 2016–2017 | Naamkaran | Dayavanti Mehta | |