Claimed to be the world's thinnest laptop, HP Spectre is making its India debut on June 21 almost five months after its launch worldwide. The HP Spectre is 10.4mm thin, weighs 1.1kg compared to Apple's 12-inch Retina MacBook that is 13.1 mm thick and weighs 920 grams.
The launch is timed to offset Apple's forthcoming ultra-thin 13 and 15-inch "MacBooks" but in terms of weight HP Spectre cannot compete with Apple. Powered by Core-i with a design claimed to be competing with Apple in innovation will be priced in the range of Rs.78,000 (US$1,169).
The HP Spectre features a 13.3-inch full HD (1920×10180) display with ultra narrow bezels and Gorilla Glass 3 and is available with both Intel i5 or i7 processor variants with 8GB RAM and up to 512GB SSD storage. The battery charge is estimated to last for up to nine and a half hours.
It sports multiple USB Type-C ports for media connectors and power connection points. The body is in copper and dark gray with contrasting bronze edging and a backlit keyboard with 1.3 mm travel, and includes a pair of arcing piston hinges giving it a "nearly hingeless look" when closed.
Unlike Apple's 12-inch MacBook's ultra low-voltage Core M CPU, the HP Spectre is powered by an Intel Core i5 or i7 Skylake processor but HP claims that it is due to integration of Intel's "breakthrough hyperbaric cooling system", which features two ultra-thin fans, a heat-pipe and a copper radiator, effective both in terms of extracting heat and also draw in cool air and passing directly over the processor.
For battery, HP used two different sizes of polymer batteries and two other cells giving the battery a life of up to 9.5 hours of life per charge. Other features of HP Spectre include a glass trackpad, three USB-C ports (two of them for Thunderbolt 3), up to 512GB PCIe SSD storage, 8GB RAM, dual speakers designed by Bang & Olufsen, Intel HD Graphics 520, among others.
The flipside of the HP Spectre is that the SSD and memory are reportedly soldered onto the mainboard, which makes it difficult to repair though it achieved the goal of making it thinner.
In addition, a Bluetooth mouse, carry bag and leather sleeve that match the design of the Spectre notebook will be sold as accessories. HP's PC chief Ron Coughlin said earlier, "For years, Apple has been seen as the innovator and the driver of innovation. HP is really taking over that mantle (now)."
It remains to be seen whether Apple's forthcoming rival 12-inch ultra-thin MacBook, to be unveiled at the WWDC 2016 between June 13-17 is expected to feature Intel's faster Skylake processors and Thunderbolt 3 with USB-C, while the MacBook Air and MacBook Pro are also reportedly undergoing an overall redesign.
Experience the world's thinnest Laptop.1This featherweight 33 cm (13″) diagonal Laptop weighs just 1.1 kilograms.
More artisan than manufactured
The details make all the difference. Carbon fibre and aluminum craftsmanship give this device the look and feel of pure luxury. The two-tone finish on the copper-coloured spine is an example of the beauty of contrast.
Edge-to-edge Corning Gorilla Glass
Finished with a durable and scratch resistant edge-to-edge Corning Gorilla Glass display.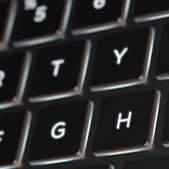 Backlit Keyboard and Glass Trackpad
From the Backlit Keyboard to the Glass Trackpad, every detail was curated for an exceptional experience.
Piston hinge design
Drawing inspiration from high-end furniture details, the stunning simplicity of the artfully-crafted piston hinge folds flush for a clean, nearly hingeless look.
More power in every millimeter
HP's unique approach to cooling to enable
Intel Core i7 processor performance
Equipping a device so thin with this much power requires a special approach to cooling. Breakthrough hyperbaric cooling technology from Intel actively draws cool air in, rather than just venting heat out. This allows us to utilise a more powerful processor without overheating. Combined with dynamic power settings that adjust to your workload, this Laptop keeps cool and stays at peak performance.
Hyperbaric cooling
Our breakthrough hyperbaric cooling system doesn't just push heat out of the machine – it actually draws in cool air and directs it over the processor, to keep it running at peak performance.
Performance specs:
Windows 10
PCIe SSD
Processors
8GB Memory
Wireless
USB type C
Windows 10:
Windows 10 with the start menu is back and better than ever with customisable Live Tiles. Plus it gives your own personal digital assistant with Cortana to help you set reminders, find your files and more.