Bangalore-based Grameen Koota has been awarded the Microfinance Organization of the Year (Large) 2015, at the 7th edition of the Microfinance India Awards ceremony held as part of the Inclusive Finance India Summit on Tuesday in New Delhi.
The Awards honour the MFIs which have contributed positively to the growth of the industry and maintained transparency and customer-centric approach. Most of these MFIs follow the Grameen Bank model of Bangladesh founded by Nobel Laureate Muhammad Yunus.
While the citation of the award states, Grameen Koota "has stood the test of time, has combined growth with effective and efficient delivery of responsible microfinance services," jury member and sector expert N. Srinivasan said, "At a time when the industry was witnessing moderate growth rate, Grameen Koota demonstrated an impressive growth without compromising on social development goals for the customer."
Under the category of small MFI, Rashtriya Gramin Vikas Nidhi won the Award for Microfinance Organization of the Year 2015, while SIDBI was awarded under the Enabling Institution category, Gramin Vikas Mahila Sansthan and Animate Society under the Self-Help category. Also the Society for Advancement for Village Economy (SAVE) was honoured at the summit. Instituted by ACCESS Development Services with support from HSBC in 2009, the awardshelp recognize the microfinance sector's achievers every year.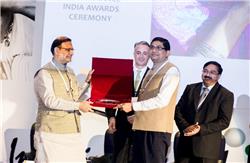 Grameen Koota Managing Director and CEO Mr. Udaya Kumar, who received the award from Minister of State for Finance Jayant Sinha, thanked organisers and said: "All these are possible only with strong and continuous support from our customers and employees, especially those who serve at the field every day."
Founded in 1999 by Mrs Vinatha Reddy, inspired by the Grameen Bank model of Bangladesh by Prof. Muhammad Yunus, Grameen Koota is registered with the Reserve Bank of India under the NBFC-MFI category. With a rating of 'mfR1' by CRISIL, Grameen Koota has 1.1 million customers and an outstanding portfolio of Rs.1,680 crore.