Apple has partnered with Flipkart and Infibeam to sell its latest iPad Air2 and iPad Mini3 in India and these e-commerce retailers are accepting pre-orders for 16GB, 64GB and 128GB versions of both devices online, to be delivered from November 29 onwards.
I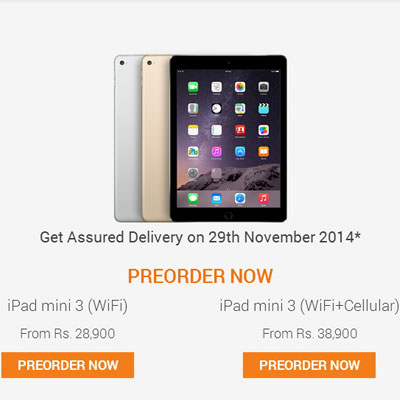 nfibeam has announced the availability of the iPad Air 2 for delivery in Mumbai, Delhi, Ahmedabad, Chennai, Bangalore, Jaipur, Hyderabad, Noida, Gurgaon, Pune, Faridabad, Secunderabad and Nagpur, while Flipkart is not promising any date for delivery right away.
The iPad Air 2 with Wi-Fi connectivity is priced Rs.35,900 for 16GB version, Rs.42,900 for 64GB version and Rs.49,900 for 128GB version and an additional Rs.10,000 for devices with cellular connectivity option.
The iPad Mini 3 with 7.9-inch display is priced Rs 28,900 for 16 GB version, Rs.53,900 for 64 GB version and Rs.42,900 for 128GB version. The cellular connectivity models will cost an additional Rs.10,000.
The latest devices from Apple come with the iOS 8.1 operating system, Apple's latest Touch ID biometric sensor and 2048 x 1536p resolution Retina display. The iPad Air 2 is powered by the ew A8X processor but the mini is still uses the old A7 chips.
Apple has slightly updated its iPad Mini 3, which comes in silver, space gray and gold. Both the Mini and Air incorporate a Touch ID fingerprint sensor for security. While iPad Air 2 has been priced $499 in the US market and the iPad Mini 3 is selling at $399, the Indian prices are slightly higher.
"It's been an incredible year and tremendously busy already," Cook said stressing that both iPhone6 and iPhone 6 Plus are the fastest-selling in Apple's history. "This is the strongest lineup of products Apple has ever had," he said, while releasing them.
Craig Federighi, senior VP of Mac Software Engineering, also touted the new features of iOS 8 and its new Mac operating system, Yosemite, terming them the "most advanced operating system on the planet."
"What really sets iOS apart is the incredible technologies it puts in the hands of our developers," Federighi said. Schiller has pointed out that the high-resolution Retina 5K display on the iMac is "the most incredible display we've ever made."